Zinnov Zones 2022
Sacumen recognized as an 'Emerging Niche Player' in Zinnov Zones rating 2022 for ER&D Services
Zinnov rates Sacumen in multiple eight segments categories of
Zinnov Zones ER&D 2022 Ratings for the Second Consecutive Year
Bangalore: Sacumen, a fast-growing cybersecurity product engineering services company, today announced that it is positioned as an 'Emerging Niche Player' in the Execution Zone in the Zinnov Zones for ER&D Services – 2022 ratings, after an impressive debut performance last year. This is the second consecutive year in which Sacumen has been featured in Zinnov Zones ER&D 2022 Services Ratings which assesses 50 global service providers.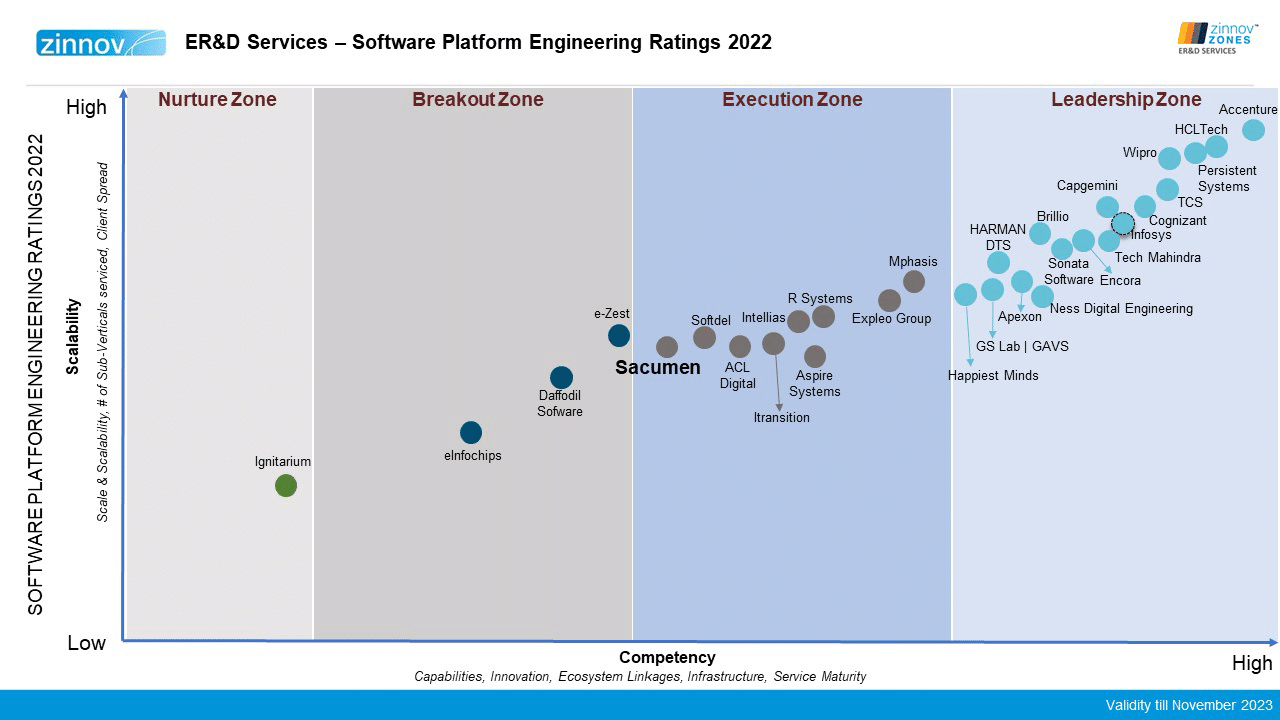 E R&D Services Rating 2022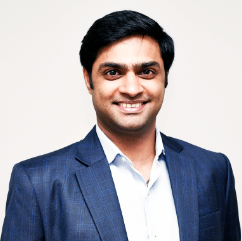 Sidhant Rastogi
Managing Partner and Global Head, Zinnov
"Sacumen's extensive portfolio of cybersecurity services, strong solutions capability, and elaborate ecosystem of technology partners, has helped it secure a place in Zinnov's Enterprise Software and Software Platform Engineering categories in the 2022 ER&D Zones Ratings. Sacumen's ability to successfully deliver solutions to its customers across Data & AI Engineering and Experience Engineering, along with its proficiency in Compliance Engineering and Product Engineering has helped it win deals and build long-term relationships with marquee customers."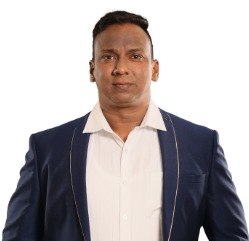 Nitesh Sinha
CEO & Founder, Sacumen
"We are proud to be posited as an 'Emerging Niche Player' in Zinnov Zones rating 2022 for ER&D Services among other top Cyber Security service providers in Zinnov zones ratings 2022. The company has also made progressive gains and has been ranked in 8 categories across ER&D Services. This rating is a testimony to our focused efforts in working with Cybersecurity product companies in solving the problem of developing and supporting Connectors (aka. Third Party integrations) as well as product engineering. Sacumen has been at the forefront to help Cybersecurity product companies provide greater value to their customers. This would not have been possible without my fantastic team."
About Zinnov
Founded in 2002, Zinnov is a global management consulting and strategy advisory firm with a presence in New York, Santa Clara, Seattle, Houston, Bangalore, Gurgaon, Paris, and Pune. With a team of experienced consultants, subject matter experts, and research professionals, Zinnov has partnered with Global Enterprises, Fortune 2000 companies, Global System Integrators, and Private Equity firms across their value creation journeys to develop actionable insights – across revenue, talent, innovation, scale, and optimization. For more information, visit Zinnov.
About Sacumen
Sacumen specializes in working with Security Product Companies. We are working with 77+ Cyber Security Product Companies in the areas of Connector Development, Connector Support, and Product Engineering. Sacumen has built 850+ Connectors in the areas of SIEM, IAM, Ticketing Systems, Incident Response, Cloud Applications, Cloud Monitoring, Threat Intelligence Feed, Endpoint Security, Cloud Storage, DevOps, GRC, Vulnerability Management, Authentication, etc. Sacumen had witnessed more than 100% growth year on year over the past few years.
Interested in understanding our Connector development and Connector support capabilities?
Please share your contact details and we will reach out to you