Specialist in Connector Development for Security Product Companies
Security Product Companies have faced a continuous challenge to keep pace in building integrations with newer 3rd party products as well as support the existing integration Connectors. On average each security product company needs to build 150-200 connectors that help to enhance the capabilities of their products. Our clients call it a "necessary evil"!
Build certified apps
Build certified apps for categories such as SIEM, Incident Response, Ticketing Systems, IAM.
Develop Events generation
Develop Events generation modules using APIs and automation scripts for Non-API events.
Strong Experience in developing
Strong Experience in developing all components of a Connector lifecycle such as Collector, Parser, Events Mapping, Correlation.
Build Multi-tenant support
Build Multi-tenant support for Connectors and deploy in Connectors as a service (CaaS) model.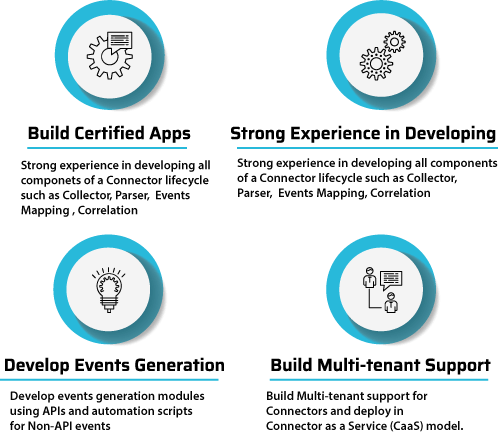 Our Connector Development Methodology