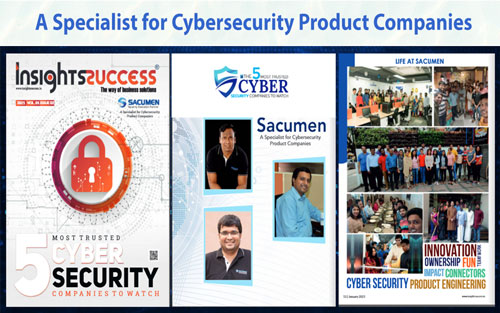 We are honored to be featured as the "
The 5 Most Trusted Cyber Security Companies to Watch

" by Insights Success

Sacumen: Security Execution Partner
A Specialist for Cybersecurity Product Companies

People are always finding new ways to hack computers and systems. Cybersecurity threats are increasing daily. This industry vertical, particularly, has kept many people on their toes, as there are always new ways to learn, different innovations to look for, solving dynamic problems of the industry, the crackdown on a new cyber threat, and much more. The industry has urged to satiate its demand for building better security solutions and address various challenges that come with it.

The term Connector means a thing that links two or more things together. Security Product Companies have faced a continuous challenge to keep pace in building integrations to newer 3rd party products as well as support the existing integration Connectors. On an average, each Security Product Company needs to build 150-200 Connectors which help to enhance the capabilities of their products.